HOLIDAY!!!
ok, so it's been a few weeks since we were away, but finally I bring you the pictures...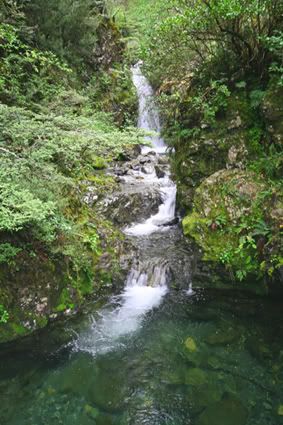 avalanche peak waterfall, arthurs pass
we decided for our week off we'd head to the west coast and go south past the glaciers, through the mighty haast pass and have a day in queenstown checking out the rental situation for when we move in june. above: this gorgoeus little waterfall had a track up next to it to more pools and falls. great place to stop and get a coffee as we headed over the pass on our first day.
arthurs pass summit
I snapped this piccie while stopped at roadworks. I love road signs in pictures, they really add national identity. we freedom camped at kumara junction (kumara means sweet potato) on the coast for our first night at a spot on a beach we'd used before. unfortunately there was a
huge
storm and we didn't sleep at all as it pretty much felt the van might blow over at any moment all night long! by morning the 2 other vans camped there for the night had dissapeared and the river next to us was in flood. in the rain we headed south and in hokitika we found rodney...
rodney needs love
...and it rained some more so we kept on south til we got to franz josef, the first of 2 toursity glaciers which end only 300m above sea level and are pretty accessible. you can go glacier walking & climing or go for helicopter/airplane sightseeing tours over them.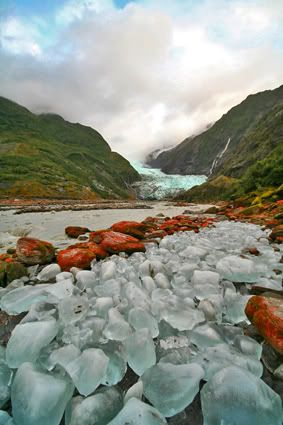 franz josef glacier
we tried to walk to the terminal face of franz josef glacier but the huge storm the night before had changed the course of the outwash river literally removing the path in places. in fact, that ice in the pic above
was
the path at that point. in some places 20ft wide and 10ft deep of earth forming the path was just gone & replaced by an iceberg laden river. it was pretty amazing to see. we camped in luxury with hot showers in franz josef for the night.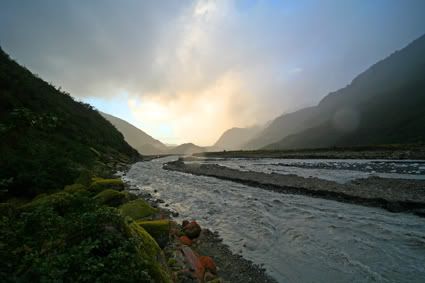 sunset as we walked back from the glacier
now here are a couple of pics of the sort of thing I really really
really
love - colour and texture in nature just... well, there aren't words to describe how much beauty I find in them. normally it's small stuff, small scale, like the contrast of a leaf on lichen or the glow of a tree with all it's leaves turned yellow blanketing the floor. I'm hoping to get a teeny camera so I can always have one with me cause there are so many times I see something as I go about daily life that I want to capture.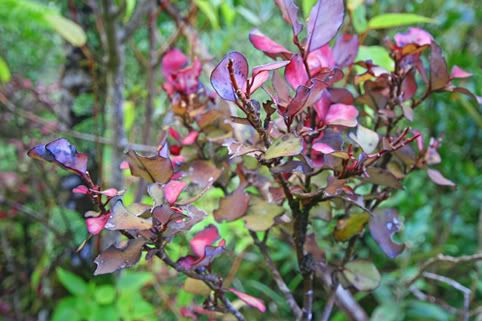 these gorgeous leaves were on the walk up to the glacier, people thought I was a bit odd with my camera 20cm from wet foliage, but there you go.
rock & leaves, haast pass
fran was hoping to do a few jumps at the next glacier along, fox glacier, but the rain persisted so we had a walk in the chilly rain up to the glacier then kept driving south for another day. this was also where rose went off roading (see post above). in the morning we stopped for a walk by the sea and found a stunning lagoon. it was very still and misty and the deep brown river waters snaked along the back of the beach before emptying into the sea. our pictures failed to capture the beauty of the reflections and stillness of the lagoon, but did manage one along the coast. the west coast is incredibly moody and stormy and there are beautiful wild beaches you could spend hours exploring. however, there are also sandflies whose bites swell up and itch for literally weeks, so I had my trousers tucked in my socks and my clothes pulled tight around me as we checked out this beauty spot.
west coast beach
we headed on up haast pass back inland and stopped at all the trail walks along the way. new zealand is great for 5min-1hour signed & boardwalked trails to little beauty spots and it's a great way of getting a taste of the envirnment you're driving through. this pic was taken on a very bouncy bridge walking to see the blue pools.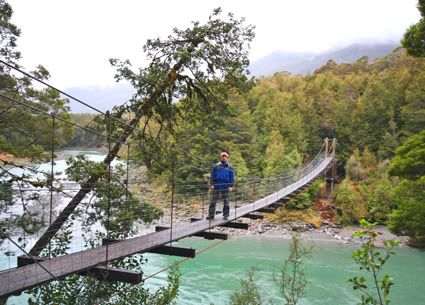 fran goes to the blue pools
we had a day in wanaka before heading to queenstown to check it out again before our move in june. I had the tastiest bacon of my entire life with french toast at cafe vudu in town which at the moment is the best cafe we've come across in QT. we brunched and check out the rental listings (encouraging, and we're SO ready to be living on our own again!!) then went for a walk in the park - a penisula sticking into the lake looking back at queentown and out to the surrounding mountains.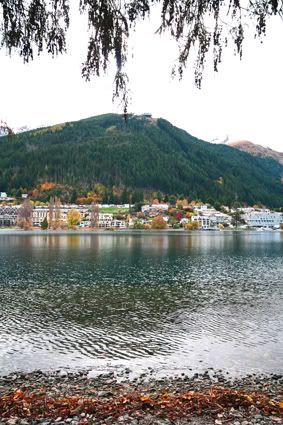 queenstown from the park
on our walk we discovered, to my absolute delight, an ice skating rink in the park. I've always loved skating, so it may have to be my new hobby. who needs snowboarding??!!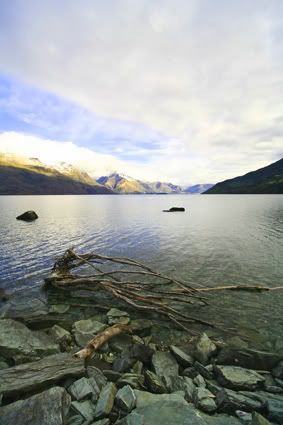 view up the lake from the park in QT
so that's pretty much it. we headed home early due to wet rainy weather and to do up our van which we're hoping to replace before we go to queenstown. our subaru estate died a few weeks ago, so I've been keeping my eye out for a new car, and this one caught my attention. a 1977 datsun 120Y ... now that's the kind of car I'd like! we also saw a 1970's canary yellow ford cortina estate in queenstown, so maybe it'll still be available when we go back in a months time...
the 1977 datsun 120Y. how can you say no to a car like this?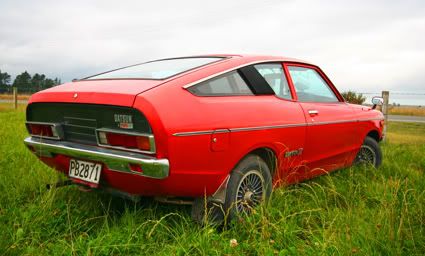 check out the space rocket rear end. I want one...