introducing rose

but first... we went up the sky tower for dinner on monday - should have watched a sunset but it was cloudy and wet! this is the view from the observation deck - you can see the base of the tower in the centre bottom of the picture and my legs reflected in the glass. the cheeky monkeys have put glass flooring up there which I just couldn't stand on - there's something wrong when you can't see the floor between you and a 300m drop!
view from the sky tower
so, we got a van! we hunted around last week for vans in auckland, went to everywhere selling them and there was just nothing in our price range that took our fancy. we prayed, and felt like god said go to Hamilton on tuesday. Hamilton is 2hrs south of Auckland and had a few places to try. by 5 o'clock we'd been to 4 places and were trying the last which had 2 potential vans of interest - that's where we found her. rose.
she's a mitsubishi L300 '86 with a 1'6 petrol engine. the first van we've actually liked enough to test drive, and we've looked at
a lot
of vans. internally she's a bit chintzy but that of course is intended to change. there's a bed over the cab, cooking and storage area in the middle and u-shaped seating in the back which makes a 2nd bed. hot and cold water, fridge runs on 12v, 240v and gas, cooker and grill, porter potty in the bottom of a cupboard you slide out in times of need, oh yes and a shower on the outside which has a little screen goes round it. we had an AA inspection done and it passed everything except the windscreen wipers which only have 1 speed- everything which needs fixing the guy we're buying it from is doing for us inc in the sale price. and in nz when you sell a vehicle it has to have had an MOT done within 28 days so you know it can't be a wreck! we're really chuffed and blessed by god's faithfulness in his provision.
whilst we were waiting for the van to get checked out we went to raglan on the east coast, mecca of surfers and home of the left-hand break. actually the surf wasn't up to much but it was nice to see the sea and chill out. we tested out our new tent and sleeping bags which we'll be using between now and collecting the van next week when it's ready and our money's through.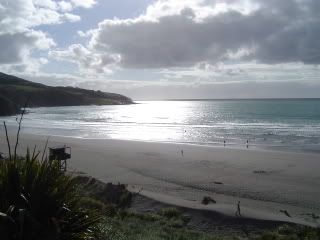 raglan