baptism!

on sunday night fran and I did something a little exciting... we got baptised! I guess this is where I take the plunge and talk about my faith on my blog, so here goes... I'm sure fran will say why he did it on his blog...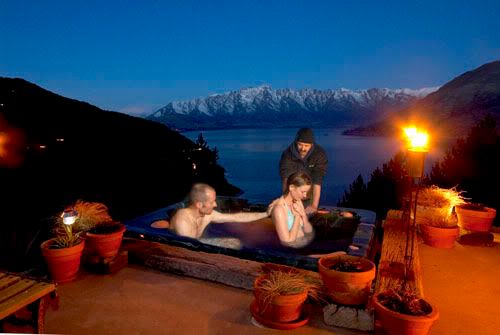 I've been a christian since I was 16, and from the moment I met God I knew I was never going to walk away from the amazing love I found. at the time I went to an anglican church and had seen friends get confirmed when it meant little personally to them, so I decided to stick with the commitment I knew I had made in my heart. I spent some time away from God at uni, but when I got back into church and God it was a renewed & passionate commitment and God did amazing things in my life. my first trip to austin, TX, in 2001, marked a radical change in my experience of God as I got the know his grace, love and freedom in a deeper and totally joyous way and meet people similar to me with refreshing faith. then God brought fran to sheffield and introduced Himself! we were married in 2003 and as part of what God was doing in our lives we felt that we would be going to New Zealand 2 years later. leaving the UK was easy in some ways because it felt so right, but being in a new country with no network of friends or church to start with was very hard and we've both become much more grounded in the last 2 years. just recently I've started to study the Old Testament book Song of Songs which has just been amazing - I'm learning about new stages in my christian walk which helps me to see where I am, what God's doing and how He wants me to be happier and freer and more in love with Him. Particularly the verse 'Dark I am, yet lovely' (Song of Songs 1:5) has struck a cord in me - I find it pretty easy to realize my sinful nature, but much harder to know that I am truly lovely. at small group a week ago we were reading through Colossians 2:12 'And when you were baptized, it was the same as being buried with Christ. Then you were raised to life because you had faith in the power of God, who raised Christ from death.' it just hit me fully - I want to know daily that I am raised to the fullness of life and freedom that Jesus brings, which means I can come boldly and gladly before the throne of God (Hebrews 4:16). and that's nowhere near as eloquent I'd like to be - I wish I could fully express in words how amazing and wonderful God makes my life... maybe no words exist to describe it.
it was also a wonderful thing to do together, and has rooted us deeper together in our faith.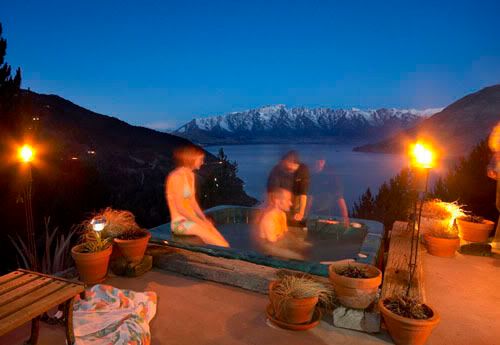 our small group hosted the baptism at our members' blair & christine's house, who were the very first people to welcome us at Queenstown Baptist Church. their house is in the most beautiful location on top of a hill overlooking lake wakitipu and the remarkables mountains next to which fran jumps daily. blair had set up lanterns and a brazier so those out of the spa didn't freeze, and we got dipped at dusk with the stars coming out above us. I tell you, I felt like a queen at a five start resort, we were so blessed by our friends. it was a really special moment. after some star gazing from the steamy tub we had a meal all together cosy inside next to the wood burner and watching blair's birthday present - the eagles in concert dvd!