refreshing view
here's the view west from our balcony at sunrise towards cecil peak and queenstown. to the east we look at the remarkables which is a range of very craggy, jagged mountains, but I don't have a pic doing them justice yet. we're getting sorted in our place and it's quite a haven to me. great to have our own space back again after living in a shared house for a while. so, our address and contact details now are:
address: unit 2, 507 frankton road, queenstown, 9300
home tel: +64 (0) 3 441 3291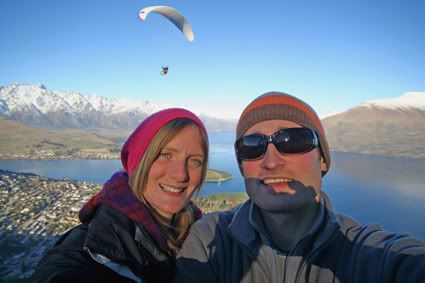 flukey timing on this pic, taken at the top of the gondola station above queenstown, captured a tandem paraglider on it's way past - something I'd really love to do but it's a tad expensive at the moment. we spent a short day walking up the gondola hill via a stream that was used for the first hydro-electric power in queenstown in the 1920's (I think). the old water pipes ran beside the path all the way up through pines and deciduous forest, it was a gorgeous walk. this pic was taken at the old dam that supplied the hydro pipes with bent and broken bits of pipes sticking out of the ground at strange angles.
so I'm looking for work, and finding the application process of seeing an ad, applying, waiting to hear about an interview, interview, to hopefully job offer a little slow and frustrating so I'd really appreciate your prayers on that front, and also on selling our lovely rose as she doesn't really fit in our teeny parking space and our drive is incredibly steep and not rose-friendly on frosty/snowy days!
anyone feeling in the mood, I'd love some snail mail at my new address!!
jen xxx