cheerio queenstown!

so on wednesday I left queenstown on the start of a 2 and a half week trip. 7 hours of driving got me up to methven where I saw all the lovely ladies I used to hang out with for thai curry on weds night and coffe at the funky 2nd hand shop/cafe primo on thursday morning.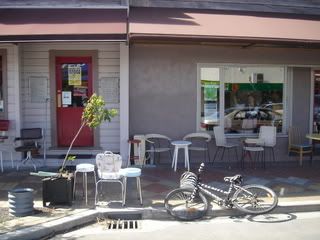 coffee at primo with a zebra stripe bike on a windy day

I've decided to do a blogathon on my travels and see how many blogs I can get onto - first start is pol & evelien's blog. I met them the last night we were in methven and have kept in contact since, and tonight they had me round for tea - luvley mate!

pol & evelien

tomorrow I start flying at 4pm and land in austin at 10pm the 'same' day... wierd. anyhoo, I'll update you with photos and blogs soon. xxx