spring is in the air
it's september 1st and and officially spring - the last 3 days have been really sunny, mild and warm, and very blustery, it feels so nice. I may actually be adjusting to southern hemisphere seasons now!
hotel mickelborough is now officially open!
and here are a few pics now that the work on our place has been finished and we've properly moved in.
the lounge with views out to the remarkables mountains
our living space - top floor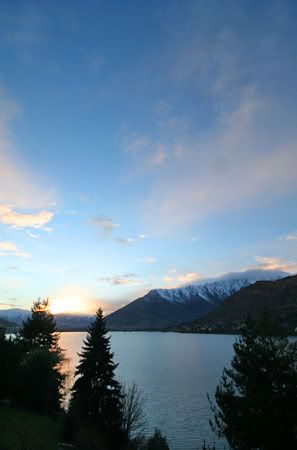 and another sunrise one morning this week
I've also finally experienced my first 'morning tea' - tradition new zealand wide comparable to elevenses. most work places have morning tea everyday or on special days like birthdays, but today was my very first time after 9 and a half months here! we sat in the sun drinking tea and eating baked goods. nice idea, so long as you do an active job!
I'm now just about recovered from my cold and no longer have to carry toilet roll wherever I go, so thanks for your prayers. I'm now assessing job options - I have an application in with a local fashion designer which would be interesting and take me in one direction, and there's also a local outdoors company which I'm quite interested in which would get me back outdoors.
but most excitingly, I'm going for a flight in a 4 seater plane tomorrow! my friend fabricio has a friend who flies and has invited me along. I'm so thrilled, fran's shown me footage of the ascent before jumping out of perfectly good planes and the scenery is stunning, so hopefully I'll have some good pics and some fun stories to show you in the near future.
and news literally in (5 seconds ago) ...fran has a contract with NZONE as a packer which is just fantastic - onto the 2nd rung of the ladder with a better paid (and more introvert suited) job for my man. halleliuah!
hope you're all well out there, lots of love from lil' ole me, jen xxx