why I love americans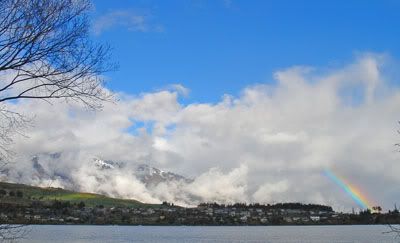 rainbow from the lakeside track
so not everyone's perfect, but there are some things I really really love about americans. there's so much generosity and freedom of spirit. we just watched 'extreme makeover home edition', definately not to be confused with 'extreme makeover' where a person with low self-esteem is given masses of cosmetic surgery to feel better and ends up a fouffy lipglossed clone - happy, but not in the best way by far.
so what they do on this programme is find a family in really hard circumstances eg, single father of three on low in come adopts 2 kids when their parents die so they don't get institutionalised & split up or family of 8 siblings lose mother suddenly, and they give their home an extreme makeover which normally involves demolishing the existing home and building a new one (in a week, whilst the family holiday!) and because of the publicity the public donate lots of nice stuff like the rest of the mortgage. the one we just watched was a family of four - both parents deaf, 1 healthly 14yr old son and 1 blind & autistic 11yr old son. the deaf parents have a really hard time communicating with their blind son and the 14yr old has lots of responsibility taking care of him and helping the family run smoothly. dad works on a car production line so doesn't earn masses. so the makeover included visual communications in each room, door keys pads to prevent the younger son leaving the home at night (when he hears interesting noises), smoke alarms that strobe and vibrate the parents bed, educational development toys for a blind/autistic boy, and a college fund so their elder son will be able to go to college. the family was so so so blessed, the autistic sone will develop masses more and communicate with his parents through a computer to brail system, and the father completely overwhelmed that the things he wasn't able to afford for his sons were provided. it's a totally over the top and totally amazing program. that blew me away today.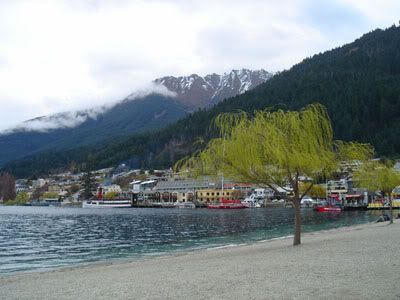 the orange trees have lime green buddies now
and my other big up goes to tyra banks. don't know if you get the tyra show wherever you are, but I've seen it a few times and I have big respect for her. first of all because she really does care for her guests and does things for them, and secondly because she's honest in a way not often seen. she shares her intimate vulnerability. and most favorite of mine, she showed herself on national tv without a bra - to be exact whilst wearing a t-shirt took off her push up bra to show where her boobs really were at. amen! we recieve so many images of completely unrealistic breasts. I think there should be a real boob guide every woman can see to put things like extreme makeover plastic surgery edition in whopping perspective.