hello texas!

I have arrived! well I arrived 2 days ago to be more accurate. my flights out went fine - christchurch to auckland 1 hour 20, auckland to LA 11 hours 30 and then LA to austin 2 hours 20 - 20 hours total travelling time! I was meant to get 2 connecting flights from LA because I didn't want the pressure of a short changover, but I took my time getting through customs, security and changing my clothes to find the austin flight still available and they just switched my tickets at check in meaning I landed 4 hours earlier than expected - at 6pm on saturday, barely ' 2 hours after' leaving new zealand, phew!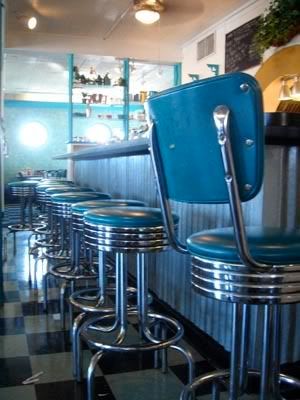 austin diner.
on sunday night after some food at home we went out for coffee/dessert in amy's convertible VW beatle - I felt arrived in balmy austin. on sunday morning we went for breakfast at austin diner and met teresa there. there was way too much choice, but I got well fed!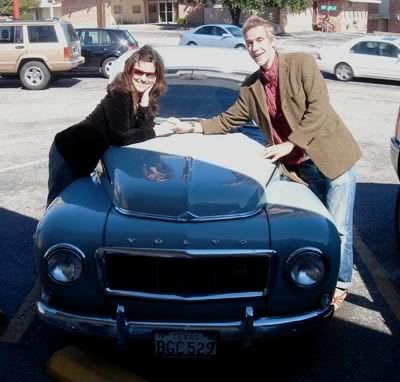 derek & amy with the beautiful old volvo.
later on we had a planning meeting with shannon and teresa which ended up at a BBQ place out in the hills. I so love BBQ - such nice flavours and tasty meat. after putting at least half of my meal in a doggy bag (!) we sat outside and chatted. amy & teresa did a little dancing on the boardwalk...
amy & teresa practise some moves
today is amy's birthday so we had a day off, having coffee, going shopping in funky boutiques, eating amy's ice cream (a texas instition - choose your ice cream, your fillings, your toppings and your sauce) and later we're out for desserts with shannon & teresa and maybe some austin others.
you may have noticed so far activities have involved quite a lot of eating out... this will change from tomorrowe as we get busy preparing things for the weekend - food, art supplies, accomodation etc. we gonna be busy, and mainly eating in, although cakes/cookies/brownies will be supplied!
it's balmy and nice to be here. strange to be so far away from fran but that feels like a good thing for both of us and we'll both learn new things through time apart. besides which, technology rocks now so keeping in touch isn't nearly so hard. god's gonna do stuff.