holiday!
so after my return from texas and mum & dad having 2 weeks on the road in rose, we had a little family break to Fiordland. 5 days total with 3 days in Te Anau and 2 days at/going to Milford Sound (below).
in Milford we went sea kayaking which was really fun and pretty knackering as mum and I shared a kayak while dad opted for the stability of experienced fran to keep him dry. it was pretty windy & rough, though our return to base was made under sail power. I saw my first wild penguin which was very very cool.
mum & the abominable snowman sea kayaking on some quieter waters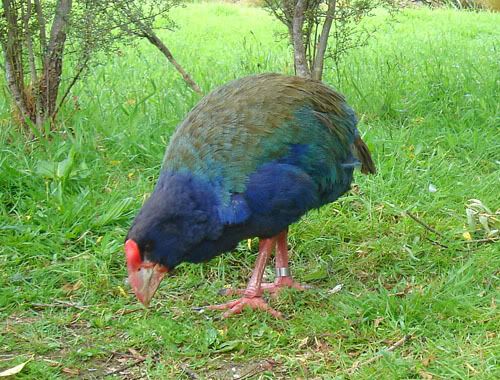 we got to see some cool bird life including this endangered old doddery takahe (150 pairs left) and the alpine parakeets that I love (they look like vibrant forest green budgies) in gorgeous mossy forest, not to mention the cheeky alpine parrot - the kea, which I had an up close & personal chat to... I'm pretty sure he would have gone for my nose if I let him!
mmm, mossy forest
I also discovered the macro setting on my camera (d'oh!) so I'm ridiculously happy as I love close ups of leaves, lichens, bark & moss... my blog will be inundated with them from now on!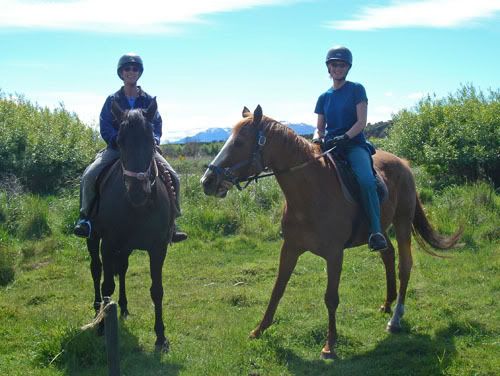 mum on 'cilla' and me on 'nipper' showing signs he might be about to lose his mind...
in Te Anau mum and I went horseriding while fran and dad went quad biking. the boys definately got the best deal being the only ones booked on and gots to do lots of fun stuff. mum and I, on the other hand, were with 5 inexperienced riders so got to plod along at a leisurely walk for most of the ride - until we persuaded the girls to have a bit of a canter... nipper (my horse) had been a bit fed up with the slow pace for a while and decided a flat out gallop was much more fun - towards a barbed wire fence! pulling on the reins would NOT stop him and I was preparing for my first jump in about 12 years when he finally decided to grind to a halt, and so I did 'the perfect fall', tucking over my shoulder and landing flat out against the fence posts! the poor young instructors were more freaked out than me, worrying I was going to go through the fence or off into the distance if I made the next field. I banged my legs a bit, and the beauty of new zealand is free accident medical & physio for everyone (residents to tourists) so now Al is getting my knee fixed and solving the problem of my weak glutes at the same time! incidently, this accident scheme means there's no sueing people for silly amounts of money for falling over curbs or slipping on a wet floor as ACC even takes care of income loss. good eh?
fern trees. nice.